Rhodesian Railways - Outline Drawings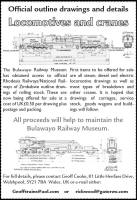 Click for larger image.
Thanks to a wonderful international show of co-operation (Zimbabwe, South Africa, Britain and Australia), the official outline drawings of RR/NRZ locos and rolling stock are to go on sale - and more importantly, the proceeds of the sale of these drawings will all go to help maintain the Bulawayo Railway Museum.
To start the ball rolling, loco drawings (A4) are available for sale at a price of £0.50 (British) each. Later it is hoped to make the carriage, service stock, wagon and even railway building plans available - everything that the RR and NRZ modeler could wish for to build up a prototypical Rhodesian layout. The drawings already available are for locomotives and steam cranes
(side and end elevations are given):-
Small class locos (2 drawings)
6th class
7th class
8th class
9th class
9A class
9B class
10 class (3 drawings)
11th class (2 drawings)
12th class (2 drawings)
12A class
12B class
13th class
14th class
14A class
15th class (2 drawings)
15A class
16th class
16A class
17th class
18th class
19th class (2 drawings)
19B class
19C class
20th class
20A class
Class DE1
Class DE2
Class DE3
Class DE4 (2 drawings)
Class DE5
Class DE6
Class DE7
Class DE8
Class DE8A
Class DE8B
Class DE9
Class DE 9A
Class DE10A
Class DE11A
Class EL1
Booth Bros Crane
Cowan Sheldon Crane
Klochner Crane
Ransome and Rapier Crane

Please type the addresses in manually.
Links
Friends of the Bulawayo Railway Museum